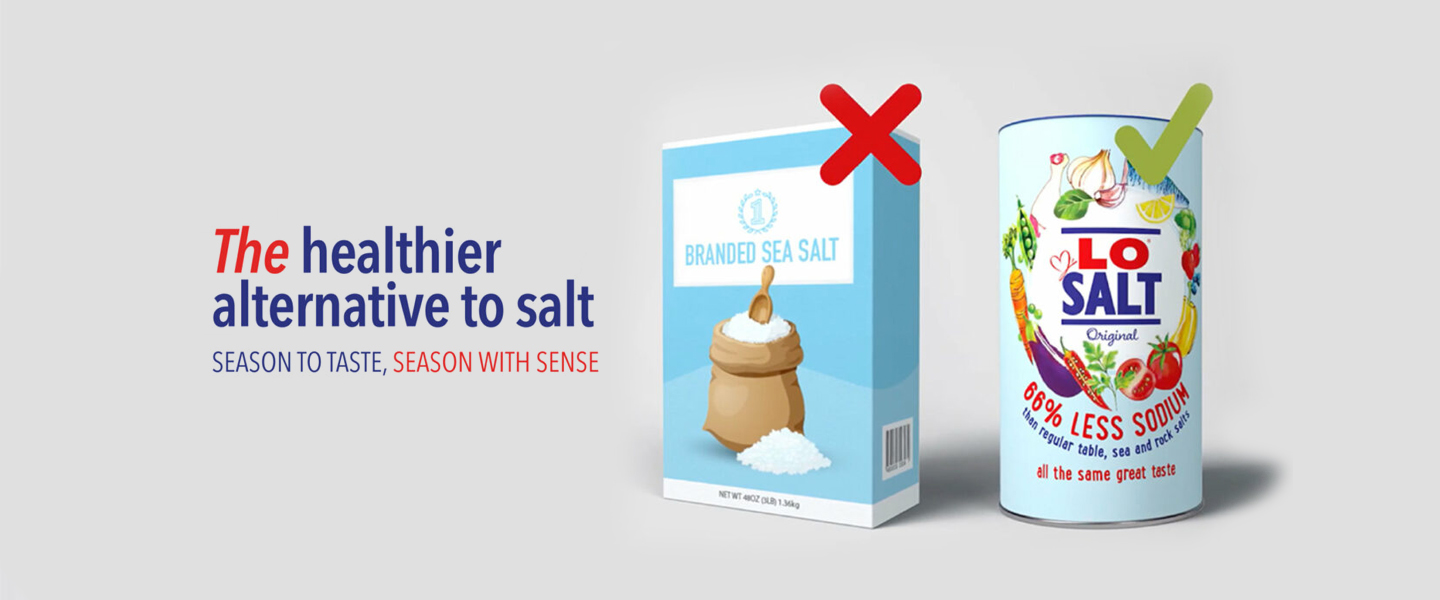 Comment: Effect of Salt Substitute on Cardiovascular Events an Death
Last month, new research published in the New England Journal of Medicine[1], concluded that switching to a salt substitute could save thousands of lives and using a potassium-based salt could help hypertension management.
The research found:
Replacing salt with a substitute could prevent thousands of strokes and heart attacks in the UK each year
There is a clear link between salt substitutes and the reduced rates of heart attacks and strokes
The risk of stroke was cut by as much as 14% in adults with a history of high blood pressure
Bruce Neal, from the George Institute for Global Health in Sydney, who led the research in the New England Journal of Medicine, comments:
"Our research showed that among people who had a history of stroke, were 60 years of age or older, and had high blood pressure, the rates of stroke, major cardiovascular events, and deaths from any cause were lower when using a salt substitute, than with regular salt."

"In the UK, if you were to replace all the salt on the supermarket shelves with salt substitutes, you would prevent thousands of strokes and heart attacks each year. Of course, consumers should be encouraged not to add salt to food at all, but if they must, then it's important that they season with sense, by using a reduced sodium salt like LoSalt®."
In the UK, stroke strikes every 5 minutes and the single biggest risk factor for this condition is high blood pressure, also known as hypertension.
9.5 million people in the UK are currently diagnosed with high blood pressure (a consistent increase since 2005) and it's estimated that for every 10 people diagnosed with high blood pressure, seven remain undiagnosed and untreated (Ref: The Stroke Association, State of the Nation Stroke statistics February 2018).
Often having no signs or symptoms, hypertension frequently goes undiagnosed.
Dr Richard Francis, Head of Research at the Stroke Association comments:
"There are currently around 1.3 million stroke survivors living in the UK and high blood pressure is one of the leading causes of stroke. In fact, more than half of stroke patients have hypertension (high blood pressure) when they have their stroke.
"It's very interesting to see the results of this large study of people in rural China, which suggests strokes and heart attacks could be prevented if people with a history of stroke, or people over 60 with high blood pressure, were to replace sodium chloride (regular salt) in their diet with a substitute with reduced sodium chloride.
"We know that one of the ways to reduce blood pressure is to reduce your regular salt intake. By making small changes to our diet to keep blood pressure in check, we can reduce our risk of stroke and other health conditions. That's why the Stroke Association has partnered with LoSalt to encourage people to #SeasonwithSense.
"If you are worried about your risk of stroke, please speak to your GP for advice."
For World Heart Day – an annual awareness campaign organised by our Season with Sense partners the World Heart Federation – we're encouraging everyone to make better salt choices, to help their health both now, and in the future.
Simple changes people can make, which will have a big impact on their health, include:
Eating plenty of fruit and vegetables
Checking packaging of prepared foods for salt content
Avoiding processed foods (75% of salt comes from processed foods in many high-income countries)
Seasoning with herbs, lemon juice and spices rather than salt; and
Switching to a reduced sodium alternative, such as LoSalt®, which can be used when cooking and seasoning, both in and out of the home
For further information on World Heart Day, visit: www.worldheartday.org
[1] https://www.nejm.org/doi/full/10.1056/nejmoa2105675