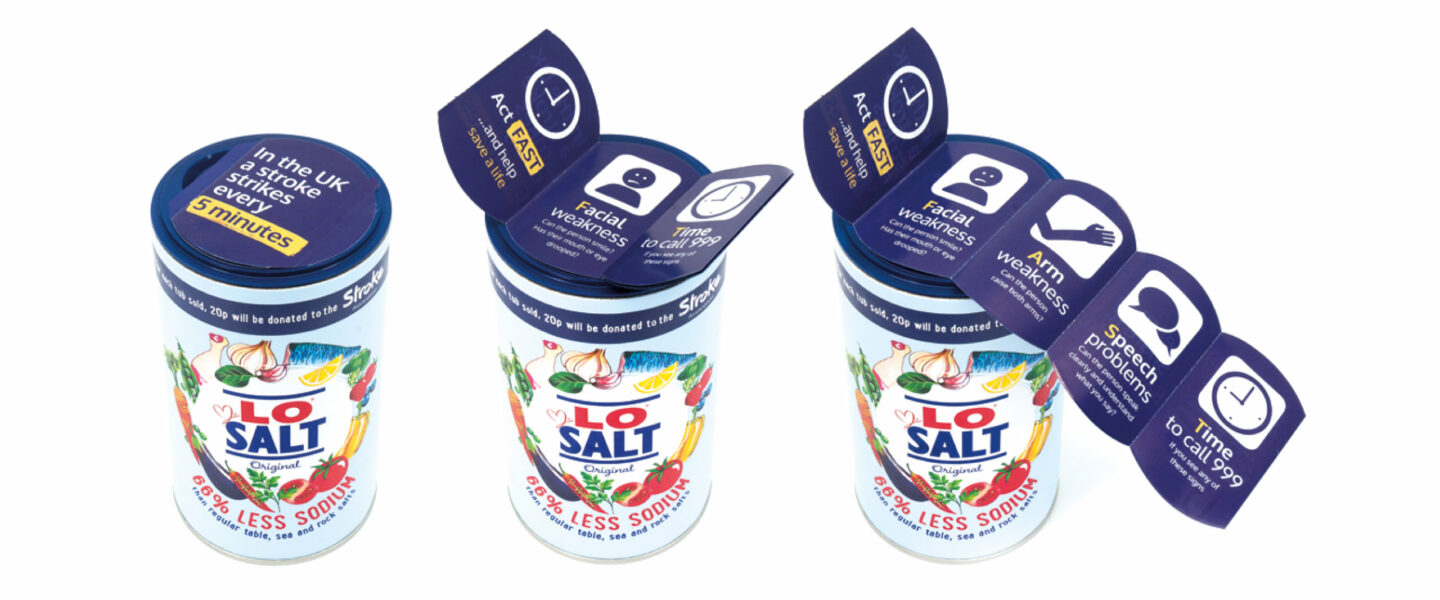 LoSalt 2021 #actFAST tub
LoSalt and the Stroke Association encourage everyone to 'act FAST' and #SeasonWithSense, with educational promotional tubs
High blood pressure usually has no symptoms (which is why it's often referred to as the 'silent killer') and is a contributing factor in around half of all strokes.
The good news? High blood pressure is preventable and learning to 'act F.A.S.T' when recognising a stroke, could help save someone's life.
We're working with the Stroke Association to help educate on the signs to look for when recognising a stroke – as well as advise on how to make small lifestyle changes, that could have a big impact on overall health.
We've launched 150,000 promotional LoSalt tubs into supermarkets, which all carry a free, 5-fold guide that will help everyone recognise the symptoms of stroke and what to do in an emergency.
The FAST test can identify facial weakness, arm weakness and speech problems, all of which are common signs of a stroke.
Facial Weakness  – Can the person smile? Has their mouth or eye drooped?
Arm Weakness  – Can the person raise both arms?
Speech problems  – Can the person speak clearly and understand what you say?
Time to call 999  – If you see any of these signs.
20p from every promotional tub sold will be given to the Stroke Association, to support the work they do in helping stroke survivors and carers rebuild their lives after stroke.
Juliet Bouverie, Chief Executive, the Stroke Association comments:
"Stroke can happen to anyone, at any age, which is why it's so important people are able to recognise the signs of a stroke, as well as understand how to prevent one from happening in the first place. High blood pressure is one of the leading causes of stroke and one way to reduce blood pressure, is to reduce your sodium intake."

"Most sodium is in the salt we eat, which is why this partnership is so crucial to us. We're not only able to educate on how to 'act FAST' when spotting a stroke, but also encourage people to #SeasonWithSense at the same time. Making small changes to our diet, such as reducing the amount or type of salt, can greatly reduce our risk of serious health issues, both for now and in the future."
In the UK, it is recommended that we consume a maximum of 6g of salt a day, which equates to about a teaspoonful. However, on average we are eating 8.4g a day. Making small lifestyle changes, such as eating less salt and learning to 'season with sense' by using a reduced-sodium salt, can help.
Find promotional tubs of LoSalt in Waitrose, ASDA and Sainsbury's.
If you take some types of medication that affect potassium levels, LoSalt and other reduced sodium salt alternatives may not be suitable for you. Check with your GP for advice.